Fargo HDP5000 Plastic Card Printer
An ID professionals dream, the Fargo HDP5000 printer is a versatile machine which offers a simple way to print high-quality access cards, membership cards and standard ID cards. As one of the lowest priced retransfer printer in it's class, the HDP5000 offers exceptional value for money.
Outstanding image quality
With retransfer technology, the HDP5000 offers exceptionally high-quality prints.
Colours are intensley vivid and eye-catching while text is clearly legible even at the smallest sizes. Because it's a retransfer machine, your image will also stretch over the entire surface of the card – whereas direct to card printers leave a thin white border around the card edge.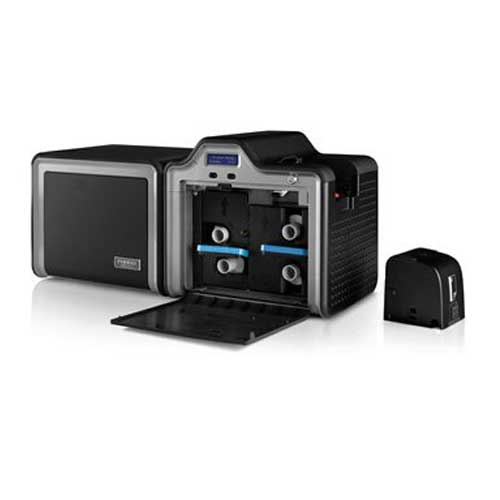 The Fargo HDP5000 printer offers the latest technology in ID card printing; it has USB connectivity, a smaller footprint and a slick modern appearance and offers exceptional print quality. Particularly suitable for small runs of employee ID passes and membership cards, it allows you to print credit card sized identification from the comfort of your office.
The Fargo HDP5000 printer promises high definition printing for sharp business logos and photorealistic images. The Fargo HDP5000 uses re-transfer technology to print on cards resulting in superior image quality, edge-to-edge prints and added durability. So, you can expect polished professional results each and every time.
Backed by a two-year warranty, theHDP5000 offers simple operation little to no training:easy-loading for cards and ribbons make this printer a joy to use. Finally, reliability and durability that will lower your total cost of ownership. All things considered, the HDP5000 is a great option for on-demand plastic card printing.
Prints a full-colour single-sided card under 30 seconds
3-year manufacturers warranty
Manufacturer part number – 89600