CardLogic is Ireland's premier supplier of pre- printed plastic cards. Over the last decade we have manufactured plastic cards for businesses of all sizes, from one-man small business operations to multi-national corporations. All our plastic cards are produced to highest quality using the most up to date methods such as digital screen and litho printing. We believe in a highly personal and competitively priced plastic card printing service.
If there's one thing we know at CardLogic, its printed plastic cards. No matter your requirements, we can offer a bespoke solution to suit your needs.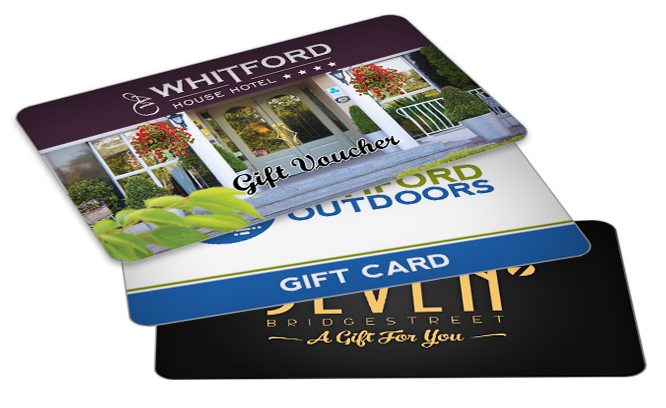 Printed gift cards are excellent promotional tools. Leave a lasting impression on your customers with a stunning bespoke gift card."
Repeat customers are the key to a successful business: why not reward their loyalty with our loyalty card printing service
Make a positive impression on your guests before they even reach their room with our custom printed key cards
Give your members something special they are proud to display. Grow your membership base with an eye-catching card.
Custom Printed Plastic Cards
From simple text only designs to whacky, colourful affairs, we can create custom printed plastic cards exactly to your specifications. We have a variety of finishes available. Matte, Gloss, Metallic and many other finishes available, they only limit is your imagination.
We take great pride in what we do, the service we provide and the resulting customer satisfaction. Our friendly staff know plastic cards inside and out. Using our industry knowledge, we will work carefully with you to ensure you recieve a high quality card to your exact specifications.
Give us a call today and lets get your project started: 0567712650
Fulfilment and Mailing service
The printing and personalising is only one process in producing cards for customers. CardLogic offer a fulfilment service where we can personalise a letter attach a printed plastic card before folding and then inserting the letter into and envelope and then posted for you.
With many years of experience with matching, attaching and card mailing CardLogic can advise on designs layouts for letters, envelope size to keep postal costs at a minimum.
We can offer you the best solution for your Fulfilment requirements.
Please feel free to contact our sales team to discuss your requirements in further details.
To view our full range of products please click here.
Need Advice? Call for an Expert Now on 056 7712650
Please don't hesitate to direct any of your questions to our support staff
The artwork will need to be sent to us in a certain way, nothing too complicated though. Our Design Department will contact you shortly after we receive your order and guide you through the process.
To increase security we use advanced printing techniques such as micro text, holograms, secure ultra violet ink and guilloche printing which makes counterfeiting near impossible.