Training ID System
Bundle Includes:

1x IDP Smart-31S Single Sided Card Printer

1x Easybadge LITE – ID Card Software
Includes Free Design & Database Setup

1 x Microsoft Webcam

1x YMCKO Ribbon

200 PVC blank cards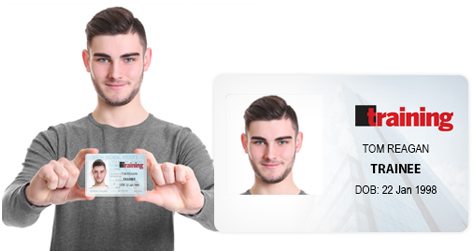 Product Deatails
Training companies now require to issue to issue a plastic card to a customer once they have completed a training course with them. On this card can include the persons details but also what training they have completed. It is becoming more and more popular for this in Ireland for training cards as the card holder can produce the training ID cards to a person which can show their training qualifications.
Our training ID system bundle includes everything in 1 piece of kit that will allow a company to produce photo quality printed plastic ID training cards.
The bundle includes the Smart 31s single sided full colour printer. This printer comes with a 5 year printer manufacturer warranty from IDP. The printer has a 100 input hopper and 40 card out hopper.
The bundle also includes all consumables for the printer including 200 plain blank white PVC cards and also the YMCKO colour ribbon which produces 250 printed ID cards full colour single sided. The Eadsybadge software included allows the user to easily design and create multiple designs for your training cards. The software set up wizard also allows the user to create a database which can show the full training information for that record. Finally the Microsoft webcam which links directly with the software allows the user to take photos with ease and links these photos with a record within the training ID card database.
For more information and pricing on our full range of plastic card solutions for training companies, please contact our sales team on 01 5065661 or email sales@cardlogic.ieThe Staff ID Card System bundle offers 1 x IDP Smart YMCFKO with UV panel, overlay & cleaning roller, allowing you to easily print 200 full colour ID cards with striking results. Also included are 2 packs of 100 high quality premier plain white PVC cards and a UV torch to ensure a visible security UV print. The UV print ensures that your business staff ID cards are not easily replicated by imposters.
Move your staff ID card printing in-house today with the affordable Staff ID System bundle.