Printed ID Cards are used by businesses, clubs and educational institutions as a means to identify their staff, students and visitors.
Outsourcing your ID Card printing service is a great way to keep track of your employees, members or visitors without the hassle of designing, printing and/or encoding your own cards. Simply send us a list of names and let us do the rest.
SIMPLE 4 STEP ORDER PROCESS
Get Your Quote
Fill out the form and get your quote.
Send Your Artwork
Send us any artwork you have for you cards and we will design a proof
Approval
Artwork is approved and sent to print
Dispatch
Order is dispatched to you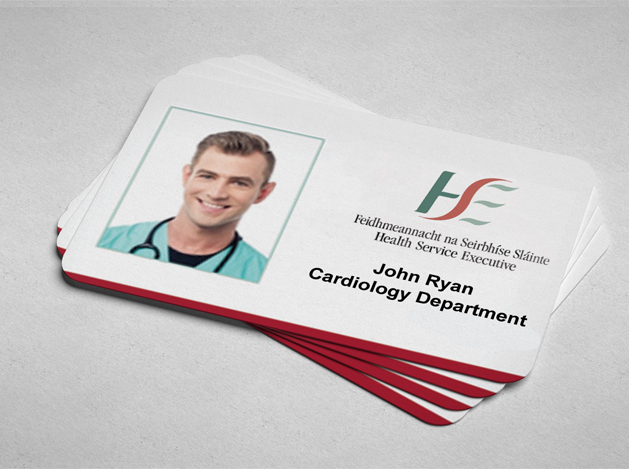 More than an ID Card
An ID badge doesnt have to be limited to identification only. By printing on technology cards, cards can be used for access control, item restriction and can even be used for payment in a staff canteen.for print and copy release and it can even be used for paying for lunch in the staff canteen with cashless catering.
Our print bureau uses the most advaned, up-to-date printing methods to ensure that we always provide the best possible service at the lowest-possible price.
Every year, we produce millions of cards for some of Ireland's best known brands in addition to one-man bands and ambitious start-ups.We can cater for all needs – from basico photo-only ID cards to the very latest in smart card technology.
ID CARD DESIGN
Some things are best left to the professionals.Our design team has extensive experience in creating unique card designs
and can design that are sure to impress.
With a wide range of print and seccurity options available and any type of ecnoding to suit your business needs, creating the perfect ID card has never been easier. 
Our Print Service
Each year, our card printing bureau produces millions of cards for clubs, businesses and government bodies 
With a low minimum order quantity, we are able to turn around our order efficiently and cost-effectively whether you need simple PVC cards or high-security contactless smart cards. 
ID CARD PRINTING FAQ
How do I provide the artwork?
It's simple: you can send any artwork you may have to us by email  and let us know your vision for the card.
I'm not happy with the finished product
To ensure your satisfaction with the finished product, we will send an online proof to show you exactly what your finished card will look like. In some cases, we may print out a sample id badge and post it for approval (additional charges may apply).
I've changed my mind about the design, can I change it?
No problem, we will never send a job to print without first sending a proof to you for sign off.

Any further questions you can contact us at our:
Dublin office: 01 5065661
Kilkenny Office: 056 7712650