Smart 31S Card Printer
Smart 51S Printer
Smart 51L Printer
[ess_grid alias="Smart Printers"]
Smarter than Smart: Introducing IDP Smart Card Printers
The Smart Printer range from IDP is a firm favorite of ours at CardLogic. Because of their outstanding reliability and functionality, we recommend them time and time again. Just last year, we were delighted to be awarded "IDP Irish Reseller Of The Year".
The smart series aims to be just that – smart! With lightning fast print speeds, high quality imaging and low running costs, a smart printer is a simple choice for many industries. Smart Card Printers offer a wide range of optional features including mag encoding contact and contactless card encoding, making it ideal for many applications.
---
The Smart Card Printer Range
Smart 31 Series – This is the entry level card printer from IDP. This printer may be small but surely packs a punch.
Available as a single or dual -sided model and equipped with Fine™ Printing Technology, The SMART-31 ID card printers provide exceptional value for money. Ideal for small businesses, organisations and membership clubs. If youre looking for a cost-effective printing solution, then look no further. The Smart 30 series will exceed all expectations.
Smart 51 Series –
The 51 builds upon the 30 series impressive foundations: boasting fast sprint speeds, low running costs and unparalleled reliability, the Smart 51 Series Card Printers are ideal for medium to high volume on demand printing.
The 51 Series offers high quality prints and coupled with a low-cost per card, make this an industry favorite. The Smart 51 Series is ideal for ID, Loyalty, Bank cards and more.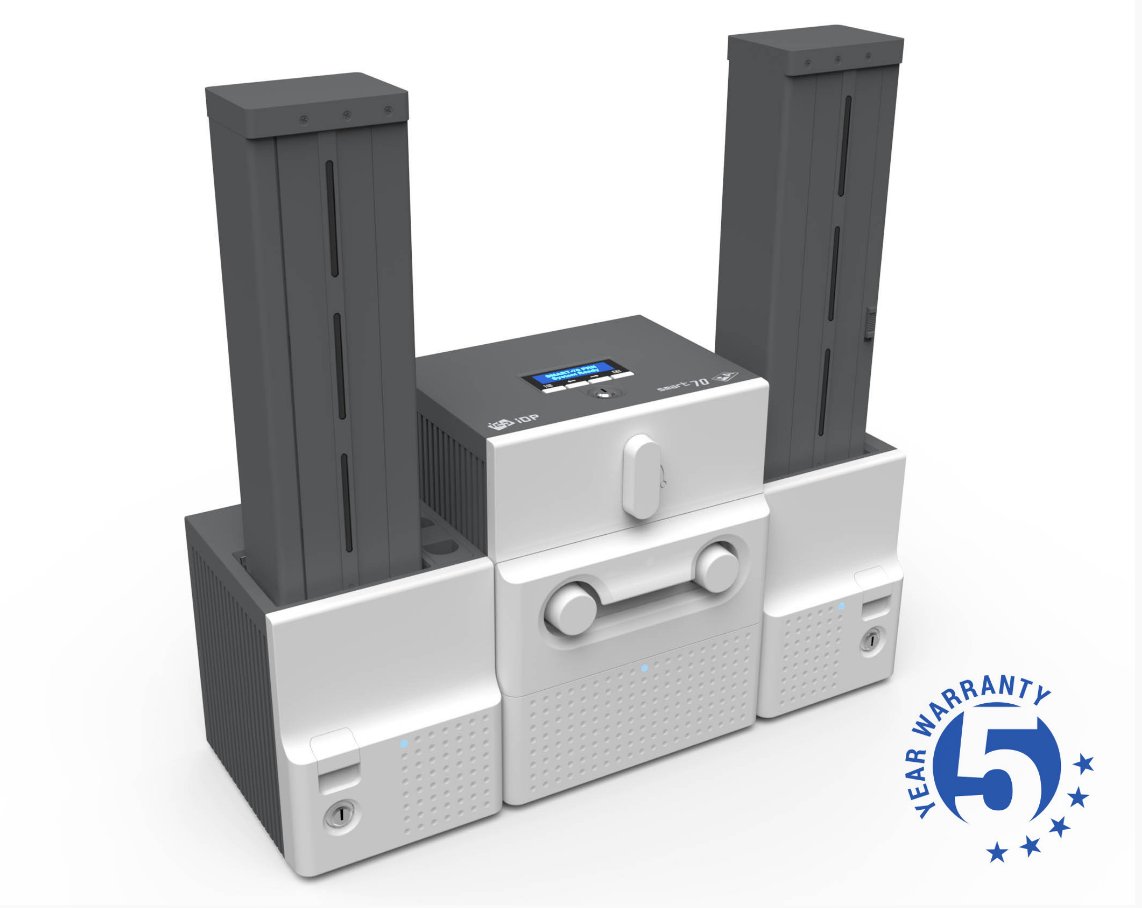 Smart 70 Series –
The top echelon; the Smart 70 Series is for those who take their plastic card printing seriously. This high-performance card printer has a unique modular design; this allows for varioud upgrades/configurations to suit a variety of printing needs. Ideal for large volume print runs – 500 cards can be continuously printed, laminated and enc
Industry-leading Warranty.
IDP are so confident in the build quality of their machines that they offer an industry leading 5-year warranty on all their card printers. Now, that's a Smart investment.